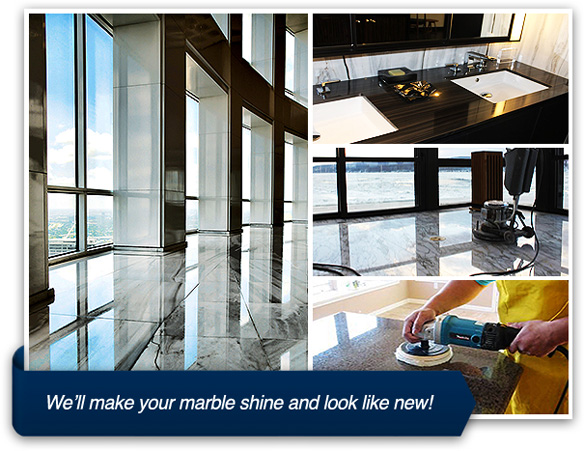 Let Our Skilled Craftsmen Restore and Maintain the Life and Aesthetics of Your Stone Surfaces.
If every day wear and tear has removed the luster from your marble floors or furniture it's time to call Suite Renovation for our special marble restoration and polishing system.
Our stone restoration and rejuvenation specialists are experts in marble, concrete, and all natural stones. We work with countertops, floors, walls, showers, vanities, bars, and other hard surfaces. Our process for restoration involves a diamond process that cuts the surface of the stone to remove scratches and stains at a quarter of the replacement price. Restoration can require acid washing, cleaning, stripping, polishing and honing. Our restoration processes are unique for every application and guaranteed to rejuvenate the surface to as good as new.
We ensure our clients that we are knowledgeable and we strive to get the job done right the first time. Our specialty solutions target all aspects of restoration and maintenance such as deep cleaning, stain and etch mark removal, crack and chip repair, impregnating (sealing), color enhancement, polishing, leveling, and new surface installations.
We offer services to corporate and private clients for the repair, cleaning, polishing, grouting and restoration of:
Marble • Granite • Terrazzo • Limestone • Grout • All Natural Stone
Defects and Repair of all Natural Stone
Marble and Stone Chip Repair
Etch Removal
Stain Removal
Marble Cleaning
Sealing & Stain-Proofing
Marble Maintenance
Tile & Grout Restoration
Re-grouting
Re-caulking
Marble Repair
Marble Refinishing
Stone Bathroom Restoration
Crack & Seam Repair
Kitchen Counter-top Restoration
Fireplace Restoration
Mildew Removal
Full Bathroom Stone Restoration
Marble Shower Walls & Floors
Stone Table Top Restoration
Bathroom Vanity Restoration
Water and Oil Stain Removal
Stone Polishing and Buffing
Ring Marks and Scratch Removal
Stone Restoration and Maintenance
Stone Kitchen Polishing and Restoration
For a Free Estimate or more information call us at 
1-866-299-4822 or contact us.