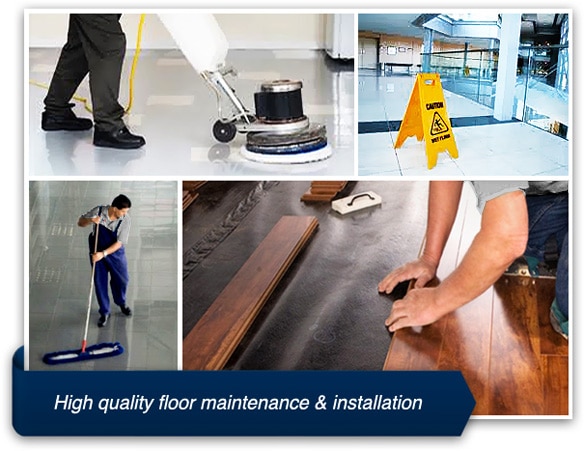 Let Us Work With You to Provide the Best Possible Treatment, Maintenance, or Flooring Installation Options Specific to Your Needs.
The Suite Renovation Floor Care division takes pride on our ability to properly execute high quality floor care service for commercial, industrial, and residential properties. Our expert technicians have years of experience in the building maintenance, janitorial and construction clean-up industry and know what it takes to do an excellent job on your floors and will work with you to provide the best possible treatment and maintenance specific to your needs. Each job is handled with the utmost priority and care.
Our Floor Care division offers professional services such as:
Stripping, Waxing, and Buffing
Marble Polish and Restoration
Grout Cleaning & Sealer
Flooring Installation
And much more…
Stripping & Waxing
When stripping and waxing a floor, we pay special attention to details such as the edges of baseboards and corners so that your floors look like they were detailed professionally.
Nobody will clean your floors more thoroughly than our technicians. We only use professional commercial grade floor finishes that are designed to last longer and a proprietary system to apply floor finish that produces a higher shine.
Whether you need machine scrubbing, buffing, sweep / mop or even strip and wax, we can do it all!
Marble Polish & Grout Restoration
Our stone restoration and grout rejuvenation specialists are experts in marble, concrete, and all natural stones. We work with countertops, floors, walls, showers, vanities, bars, and other hard surfaces.
We provide a large array of services for most natural stone including but not limited to all of the following:
Polishing
Honing
Diamond Sanding and Resurfacing
Lippage removal and floor leveling
Sealing
Grout Cleaning and Repair/Replacement
Our stone and grout restoration technician's attention to detail will please any customer!
Flooring Installation
No project is too big or too small for our flooring repair and installation specialists. We'll even help make the process easy by finding just the right flooring for your project.
Suite Renovation's flooring installers specialize in the installation and repair of all types of flooring projects such as:
Vinyl flooring
Hardwood flooring
Laminate flooring
Ceramic / Marble tile flooring
New flooring Installation
And many other project types…
Our flooring estimate is 100% free!
Suite Renovation's Floor Care division is capable of handling the varying needs of among the following:
  Residential Properties
Ÿ  Office buildings
Ÿ  Restaurants
Ÿ  Hotel / Convention centers
Ÿ  Retail stores
Ÿ  Schools
Ÿ  Medical facilities
Ÿ  Municipal buildings
Ÿ  Apartment complexes
If you have a small job of 800 SF or large job of 100,000 SF or more, we have the experience, know-how, and equipment to get the job done!
For a Free Estimate or more information call us at 
1-866-299-4822 or contact us.