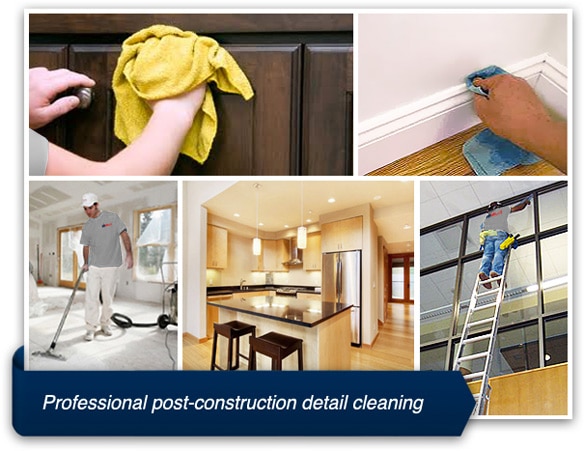 We Offer the Best Post Construction Cleaning Services in the Los Angeles Area.
If you are a construction company or property owner who has completed construction on a new site, then you are ready to prepare the property for its official opening. Count on Suite Renovation to deliver your occupants a "NEW" look — on time!
Suite Renovation leaves no stone unturned when taking care of a newly constructed or remodeled home, building, or commercial space. We thoroughly clean the project inside and out using only the best cleaning products and equipment available to ensure that the your client or it's new occupants will enjoy a fresh, clean space at an affordable price.
We do the work for you so that you can get back to business. When we are done cleaning, your property will be ready for occupation.
Whether a full or partial construction clean up, Suite Renovation is here for all of your construction clean-up needs.
We have built our reputation on a proven process that creates accurate bids, coordinates people and materials, and we always meet our deadlines. We understand the sensitivity of preparing a site for its official opening and that your reputation is on the line, so we put pressure on ourselves to perform at the highest level of excellence. No matter what size project you have, we have the knowledge, manpower, and the experience to do an excellent job the first time we make contact on-site. From rough clean to final clean detailing, we are your contractors of choice.
We work closely with Southern California's top Construction Operators and Property Owners to ensure immediate and thorough cleaning beyond expectation.
General Contractors and Project Managers in the greater Los Angeles area chose Suite Renovation as their #1 Rough & Final Construction Clean Up expert of choice. Communication with our clients is always maintained to ensure that the job gets done to complete satisfaction. We pride ourselves in saving you time and money on your final clean-up needs as well as making you look good to the owners of your project.
Whether you need a rough clean, final clean or fluff clean we do it all, and we do it very well!
During post construction clean-up we can also provide a strategy for an on-going, regular cleaning and maintenance program to keep your space looking its best day after day, year after year.
We Specialize In:
Interior and exterior detailing
Window cleaning and washing
Tile and cement clean-up
Sealing concrete and stone flooring
Floor striping and waxing
Professional carpet cleaning
Marble, granite and metal polishing
Pressure washing buildings
Much more…
Our Post Construction Cleaning Services Include:
Cleaning of all tubs, toilets, bath and kitchen sinks
Removal of all temporary protection and labels not required to remain
Cleaning all water heaters
Cleaning all utility closets, storage areas, furnace closets, garages, etc.
Dust off baseboards
Dust off all doors, doorknobs, plug covers and switches
Removal of all carpet and pad remnants
Vacuuming of all carpeted areas
Dusting and wet moping all hard surface floors
Scraping and washing all window surfaces and sliding glass doors
Cleaning all windows and sliding glass door frames, sills, and tracks
Cleaning and removal of any debris inside all cabinets and drawers
Polishing all cabinets, vanities, and other stained woodwork
Polishing all stainless steel appliances and sinks
Cleaning and shining of all plumbing fixtures, mirrors, medicine cabinets, and bath accessories
Cleaning and shining all appliances inside and out
Thorough cleaning of fireplace, mantle, and surround
Removal of all temporary labels and packing materials
Organize and store all operating guides and maintenance manuals. (To be place in kitchen drawers unless otherwise instructed)
Cleaning of patio floors, railings, and misc. iron ornamentals
Dust off all walls
Post Construction Air Duct Cleaning
Sweep, scrape and hose off exterior stairs, landings, walkways, decks, and garages
Pressure washing services may also be provided upon request
Benefits you'll enjoy:
Over 30 years combined experience in the construction industry.
Licensed, bonded and insured.
Workers' comp. coverage for your protection and security.
On-site management team makes sure our services meet timelines and expectations.
Open and respectful communication.
We're Responsive and dedicated.
We use only experienced clean-up crews for projects of all sizes.
We value fairness, honesty and respect in our relationships with clients, workers and each other.
Required Final Inspection for all jobs to help ensure satisfaction of client is met or exceeded.
If you, or your company, are ready to prepare the property for its official opening, we would like to meet with you to discuss your future objectives and how our services may be of help in obtaining your overall goals.
For a Free Estimate or more information call us at 
1-866-299-4822 or contact us.